Warren Midtown Motors Inc. Brake Service
Professional Ford Brake Service Near Ashville, NY
Over time, the components in your vehicle will run their course and require replacement, including your car's brakes. Don't fret, though: the Warren Midtown Motors service team is here to take care of all the work for you. From routine Ford brake inspections to Ford brake replacements and fluid flushes, we do it all at our nearby auto service center.
Check out some of the brake warning signs we've outlined below, then book your next appointment at our Ford dealership near Ashville!
How Can I Tell if I Need New Brakes?
There are several telltale signals suggesting it may be time to schedule an inspection of your vehicle's braking system. While we recommend you get your brakes inspected regularly -- roughly every six months or 6,000 miles -- specific Ford brake service intervals can be found in your Ford owner's manual. Need to schedule Ford service near Ashville now?
Here are a few signs your vehicle may need new brakes:
You hear a squealing or grinding noise. This is a warning sign that brake pads often come with that help indicate it's time for new brakes.
Your brakes feel spongy or hard to press down. This may be due to air in the brake lines, which impedes performance. You'll want to schedule a brake fluid change.
Your car pulls to one side. Sometime the brake pads don't wear at the same rate, causing your car to pull slightly to the left or right side once you hit the brakes. Have our team inspect your brakes immediately.
Your brake pedal vibrates when pressed. If your vehicle's brake pads are polluted with dirt, oil, debris or other substances, this can cause a pedal vibration. Letting this issue go for too long may cause further damage.
Your Ford brake warning light comes on. Is a brake warning symbol illuminated on your vehicle's dashboard? Your vehicle is indicating that something is wrong with the braking system, making it important to address the situation immediately.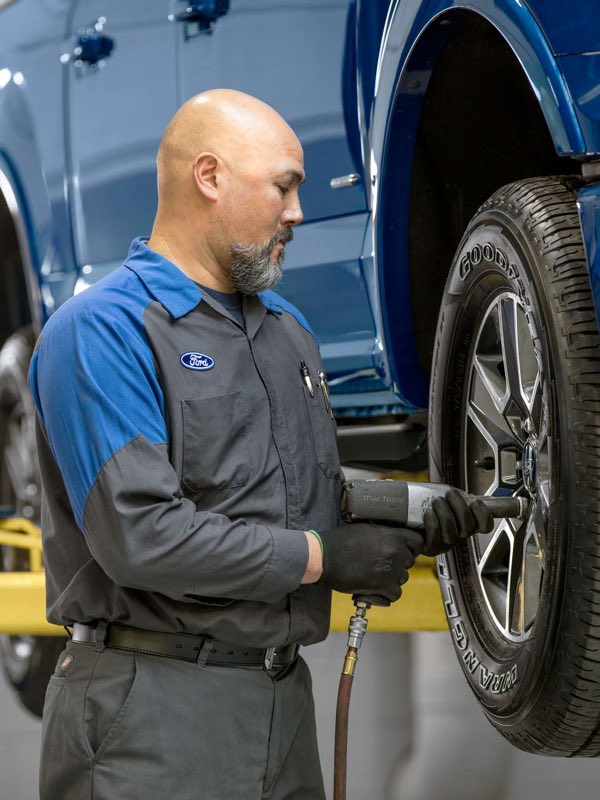 Brake Shops Near Me
If you have any inclination that something is wrong with your car's brakes, don't hesitate -- schedule an appointment at our Warren Ford service center. Our factory-certified auto repair technicians can measure wear and take care of any Ford brake pad, rotor or caliper issues your vehicle might be experiencing.
We'll ensure that all brake fluids are at the correct level and flowing properly, check for any leaks and test the hardware in your ride to ensure everything is functioning as it should.
Are you looking to schedule warranty repairs as part of the Midtown Motors Promise? Trying to save on Ford service prices with our enticing brake coupons? Contact Warren Midtown Motors to schedule your brake inspection and let our team go the extra mile for you!
Closed track. Line-lock is intended for track use only. It should not be used on public roads. See Owner's Manual for information on use.
Introducing the FordPass™ Rewards Visa® Card.
The card that makes it easy to rack up FordPass Rewards Points on purchases you already make — from filling up at the pump to your monthly auto insurance payment and more.
Closed track. Line-lock is intended for track use only. It should not be used on public roads. See Owner's Manual for information on use.
QUESTIONS ABOUT BRAKES?
Let Us Help!